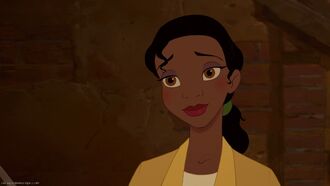 Tiana is the main protagonist of Princess and the Frog. She's the one of the Disney Princess. She is voiced by Anika Noni Rose.
She was helping her friends setup the decoration for Halloween Dance at Brockton High. She and her friends were being chased by Volf and the wolf pack only she and others was saved by Terrence.
She and her friends join the Majestic Guardians to Grande University to visit Arnold on a trip. they soon watched when Terrence and Ethan get transported to a Different Dimension.
She and Rapunzel was invited by Holly for the Christmas party and brought the Majestic Guardians for precaution.
Physical Appearance
Edit
She has black hair in ponytail, brown eyes. She wore a yellow dress.
Appearance
Edit
TerrenceHalloween Thriller Night (debut)
Majestic Guardian Christmas
Welcome to Different Dimension
She's the ninth Disney Princess of  the thirteen to be part of the group.
Ad blocker interference detected!
Wikia is a free-to-use site that makes money from advertising. We have a modified experience for viewers using ad blockers

Wikia is not accessible if you've made further modifications. Remove the custom ad blocker rule(s) and the page will load as expected.