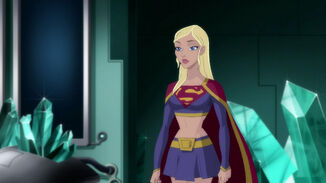 Kara Zol-El, also known as Supergirl is an ally and cousin of Superman from DC comics. .
On Earth, she poses as Kara Kent. She currently lives in Smallville with Jonathan and Martha Kent.
Majestic Guardians continuity
Edit
She along with Fabia Sheen and Aisha joined the Majestic Titans on a mission to Themyscira to prevent a war between the Atlanteans and the Amazons. The incarnation that is employed in this continuity is from the film, Superman Unbound, voiced by Molly Quinn.
Physical Appearance
Edit
She's a teenage Kryptonian woman with blonde hair and blue eyes. She wears a blue midriff shirt with a shield shaped insignia with an 'S' on it. She sports a red cape, blue skirt and red boots.
Appearance
Edit
Amazon Fury (Debut)
Secret of Brainiac
She has experienced a traumatizing event of the seige on a Kryptonian capital, Kandor, which was shrunk by Brainiac.
This version has parents while other versions of Supergirl doesn't, depending on the continuity.
Ad blocker interference detected!
Wikia is a free-to-use site that makes money from advertising. We have a modified experience for viewers using ad blockers

Wikia is not accessible if you've made further modifications. Remove the custom ad blocker rule(s) and the page will load as expected.