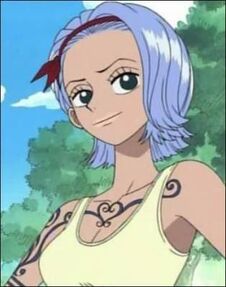 Nojiko is the adopted sister of NAmi. they were raised together by Bell-Mere. her voice actress by  Tara sands.
She's joined the Warrior of Neon.
she and the members were looking for the Jin Kazama in the Cathedral only to be locked by him for protection from himself. she was soon freed by the Majestic Guardians leading by Xiaoyu and tried to help to help Jin  control his devil gene and stop what's he doing.
Physical Appearance
Edit
She's a 20 years old with tan skin, light blue hair and green eyes and a tattoo on her right arm and chest. she wore a light beige sleeveless shirt, blue trousers and sandals.
Appearance
Edit
Majestic Guardians: Devil Within (Debut)
She was in love with Ventor.