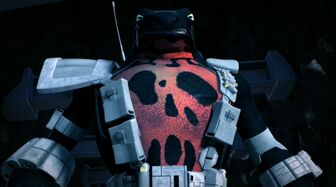 Newtralizer is an enemy in Teenage Mutant Ninja Turtle (2012). He was mutated by the KRaang with the Mutagene. he is voiced by Danny Trejo.
He joined the Evil Organization to help Madara Uchiha to revive Tezoth the Evil One.
He, along with Prince Olympius, Madara and Mirage were witness Sergio fight with Terrence and Ethan. He and Prince Olympius was assign by MAdara to go to the Cathedral to recruit Jin Kazama. He fought Terrence, Po, Tommy and Xiaoyu with the Technodron, only he retreated for the moment.
He was going to attack to the Messenger only Madara stopped him
Physical Appearance
Edit
He's a newt with black scale, yellow eyes. He wore some gadgets on him.
Appearance
Edit
Terrence 3: Revival of the Dark Fairy (Debut)
Devil Within
Majestic Guardians: Armada Invasion
He's the parodied of the Punisher
He's the only member who never talked but roared and growled.