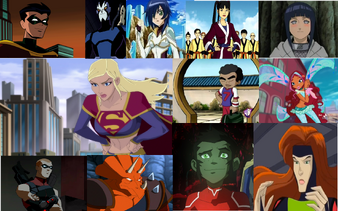 Majestic Titans is another hero team. Damian Wayne joined the Majestic Guardians roster after he fought Ra's Al Ghul, in battle and became a leader of his own team to protect Edenia when the Majestic Guardians aren't around. The group is led by Damian Wayne aka Robin V.
After the Silva Family Massacre, Tsunade formed a small team of heroes to defend Edenia and have Terrence work with them for a while until Terrence is ready to have his own team. They came along with Tsunade and Sirius to help Terrence to stop Toshin, the Aztec God of Fighting.
Appearance
Edit
Terrence: Halloween Thriller Night (Debut)
The Goblin's Quest
Amazon Fury (only Miyumi, Hinata, Fabia, Supergirl and Asha)
Biological Night (only Jermaine, Rook Blonko, Aisha and Fabia Sheen)
Majestic Guardians: Armada Invasion
The Team is a lot similar to Teen Titans. It has an incarnation of Robin as leader, a naive alien who is yet accustomed to Earth (namely Rook), a magic user (Aisha) and most of all, it consists of adolescent heroes.
Robin, Supergirl, Beast Boy and Arsensal are the only members who were Teen Titans members.