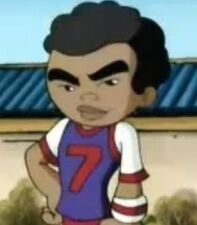 Jermaine is a friend of Omi and the Xiaolin Monk in the Xiaolin Showdown. he is voiced by Late Lee Thompson Young.
He joined the Majestic Titans after the Silva Family Massacre. he, and others help Sirius and Tsunade to stop Toshin, the aztec God of Fighting.
Personality
Edit
He was Streetwise, laidback and relaxed kid, but he's very good at physical activities when needed to be.
Phyiscal Appearance
Edit
He has small black hair, black eyes. he wore a white shirt underneath red/blue jersey shirt with a 7 on it, red pant and blue shoe.
Appearance
Edit
Terrence: Halloween Thriller Night
The Goblin's Quest
Biological Nightmare
HE appeared in two episode in Xiaolin Showdown.
He's a skilled basketball player.
HE's the only monk who doesn't have the dragon element.
This reveal he knows about the Wakandan Culture and know about the Black Panther.
Ad blocker interference detected!
Wikia is a free-to-use site that makes money from advertising. We have a modified experience for viewers using ad blockers

Wikia is not accessible if you've made further modifications. Remove the custom ad blocker rule(s) and the page will load as expected.