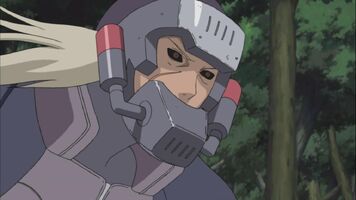 Hanzo is a deceased ninja from Naruto. He was a Legendary Shinobi during his Lifetime. He is voiced by Richard Epcar.
Hanzo was brought back to life by Tzekel Kan and attack Terrence Silva. He was soon killed by Terrence and went back to the Afterlife.
Physical Appearance
Edit
He has red eyes and pale blonde. He wore a helmet-like respiration, a loose wetsuit, a flakjacket underneath with a dark coat to his waist and sandals.
Appearance
Edit
Terrence: Halloween Thriller Night
He was named afted and Based of Hanzo Hattori.
He was main rival to Mifune.
Ad blocker interference detected!
Wikia is a free-to-use site that makes money from advertising. We have a modified experience for viewers using ad blockers

Wikia is not accessible if you've made further modifications. Remove the custom ad blocker rule(s) and the page will load as expected.