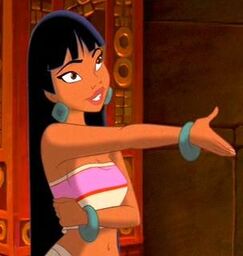 Chel is the secondary protagonist of The ROAd to El Dorado. she help Miguel and Tulio with their plan to pretend to think they're gods. Her love interest is Tulio. She is voiced by Rosie Perez.
She and others were helpeing Frankie and the others for the HAlloween Party at school. She and the others were being chased by Volf and the pack of Werewolves only to be saved by Terrence.
Physical appearance
Edit
She's an Incan woman with black hair and brown eyes. she wore incan outfit and jewelry.
Appearance
Edit
Terrence: Halloween Thriller Night
She was part of the Non-Disney Princesses.