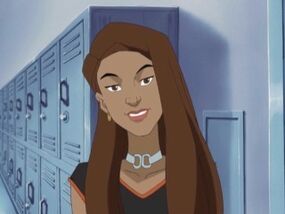 Amanda Sefton is a character from X-men Evolution. She was kurt's girlfriend and Students of Bayville High. she is voiced by Moeni
She's one of the students of Brockton. She was seen dancing Kurt during the Halloween and met her friends discuss about what happen.
She and her friends came with the Majestic Guardian to go visit Arnold at the Grande University. She soon see Terrence and Ethan get transported to a Different Dimension.
Physical Appearance
Edit
She has medium dark skin, brown eyes and brown hair. She wore a black shirt, orange pants and brown sandals.
Appearance
Edit
Terrence: Halloween Thriller Night (Debut)
Welcome to Different Dimension
In the comics, she was a mutant. but in X-Men Evolution, she's human.
She love Kurt Wagner even though he's a mutant in the X-Men Evolution.
Ad blocker interference detected!
Wikia is a free-to-use site that makes money from advertising. We have a modified experience for viewers using ad blockers

Wikia is not accessible if you've made further modifications. Remove the custom ad blocker rule(s) and the page will load as expected.